Why Visiting Madison, Indiana Should Be On Your US Bucket List
While the Midwest region of the United States is stereotypically known for its sprawling plains, agriculture, and cows, it's also home to a wide variety of river communities along the mighty Ohio River. One of these communities is Madison, Indiana, which is located just an hour's drive north of Louisville and an hour's drive south of Cincinnati. It's home to about 12,000 people, but more than 50,000 live in the surrounding suburban areas. But, why should this quaint town be on your road trip bucket list? Well, if you love soaking in local culture and visiting beautiful places, you have no reason not to visit Madison.
Natural Beauty and Recreation Activities
Perhaps the first thing that will jump out to you about Madison is the beautiful landscape it's situated in. You'll find the Ohio River to the south side of town, and won't be able to miss the riverfront and its various activities. The Madison-Milton Bridge is a great subject for sunset photos, and has a walkway to help you truly soak in the beauty of the Ohio River.
If you visit in the summer, you'll probably want to cool off on the water, which you can do via Rockin' Thunder River Tours. Locals will tell you swimming, water skiing, and traditional boating are great ways to spend a warm day, too. The riverfront is also home to things like car shows, musical performances, and art festivals. There's a reason Madison calls itself the "event capital of Indiana."
Clifty Fall State Park is the crown jewel of outdoor recreation in Madison. You can soak in the many waterfalls, a 70-foot gorge, a nature center, hiking trails, camping opportunities, and much more. Don't miss the 1852 Railroad Tunnel, either.
The outdoor opportunities don't just end at Clifty Falls. Golfing, fishing, and swimming permeate the whole area. The 50,000-square-foot Big Oaks National Wildlife Refuge is just nearby.
History of Madison, Indiana
Thanks to its early additions of a steamboat port and railroad, Madison was actually once the biggest city in Indiana. Although the town is on the smaller side now, it's safe to say it's chock-full of historic landmarks and was even dubbed an "outdoor museum of architecture" by Travel America. Madison's downtown area contains 133 historic blocks, giving it the nation's largest contiguous national historic landmark district.
The cornerstone of Madison's history is its eight historic homes and museums. The entire town represents and proudly displays 19th-century architectural styles like Federal, Italianate, and Greek Revival. Built in 1835, the John T. Windle Auditorium is particularly impressive and is Madison's oldest community center. It features the original organ and resembles a temple.
Madison is also home to three official National Historic Landmarks. The Historic Eleutherian College, Lanier Mansion, and Shrewsbury-Windle Home are all worthy of a visit and a tour.
With all this history, it's only right Madison is home to the Jefferson County Historical Society. Whether you want to go on an official tour or just peruse the beautiful downtown area, this river town is soaked in history.
Restaurants and Food in Madison, Indiana
From quick and cute cafes to authentic Italian restaurants, Madison has food for every occasion. More than 20 eateries are located in the downtown area alone. Hinkles Sandwich Shop can fill your late-night craving and is open 24 hours Friday and Saturday. If you're looking for something classier, Falls Restaurant at Clifty Inn offers a scenic overview of the Ohio River and easily accessible outdoor spots.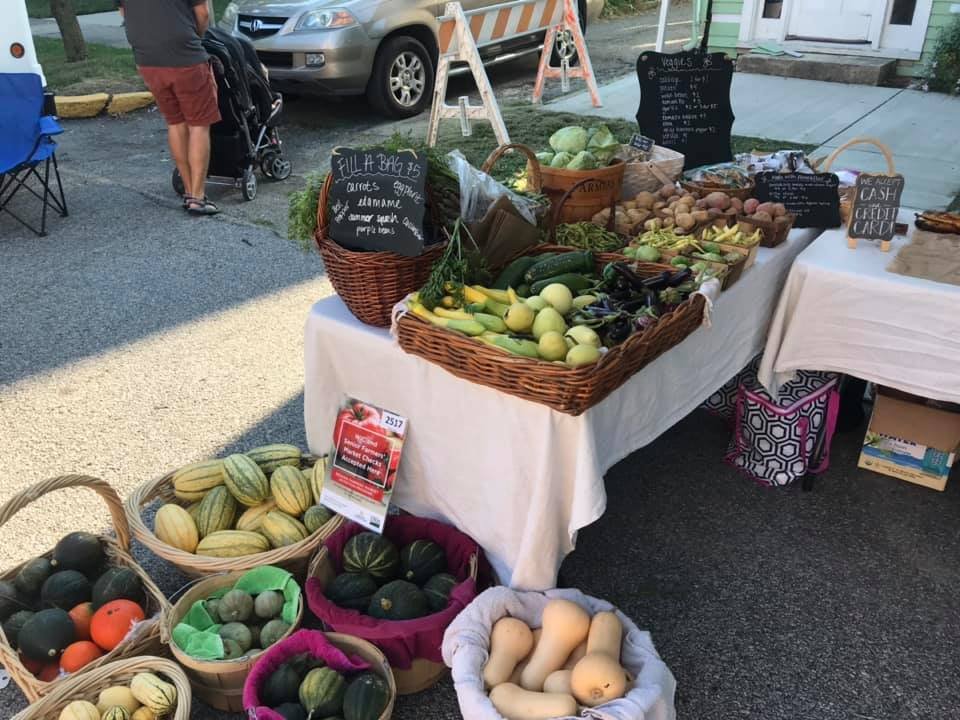 Madison is also home to the oldest farmers' market in Indiana, dating all the way back to 1809. It pops up every Saturday of the year, right in the heart of downtown. Fresh produce like eggs and honey, along with curated meats, baked goods, and crafts, will leave you feeling full and satisfied.
If you're a coffee fanatic, Gallery 115 or Crafted Coffee might satisfy your cravings. The former also offers gifts and boutiques, while the latter has specialty crafted pastries, lattes, and sandwiches.
Sallie's Small Batch Ice Creams is also a unique spot to take care of your sweet tooth cravings, and is based out of an old camping bus.
Enjoy Beer and Wine in Madison
After a long day out on the town or in a park, nothing is better than a cold pint of beer or a glass of wine. Keeping the history trend alive, Madison was one of the first cities west of the Allegheny Mountains to begin brewing beer. Germans brought their recipes over to the United States and operated breweries in Madison from 1818 to 1918, only slowing down then for prohibition. Established in 1823, the Greiner Brewery, while no longer active, is the oldest standing brewery building in the entire state of Indiana.
Today, you can enjoy craft beverages from two breweries operating in Madison. The Mad Paddle Brewstillery (it also distills moonshine and bourbon) was founded in 2018 to honor Madison's rich brewing history. It has a lovely taproom section with self-pour beer taps through the Pour My Beer company, and features guest brews from other places around Indiana. From IPAs and Irish red ales to stouts and sours, their beer list has something for everyone.
If you want to venture a bit out of downtown and drink on Madison's hilltop, New Madison Brewing Company might be right up your alley. Its taproom offers pints, growlers to go, and tasting flights if you want to try a little bit of everything. Just like Mad Paddle, New Madison Brewing Company has an extensive list of in-house brewed beers on tap.
If wine is more your thing, Madison easily has you covered in this area too! If you're looking for something downtown, Thomas Family Winery is a popular choice. It features wines and ciders in a cellar-style location that features live music, charcuterie boards, and a bakery. Located just a stone's throw from the Ohio River, Lanthier Winery is also a winner. It's the city's oldest winery and is housed in an authentic 18th-century building with a beautiful garden. They distill spirits right in Madison as well.
If you're feeling something with more of a rural, vineyard-esque feel, Stream Cliff Farm might be your pick. It features Indiana's oldest herb farm and has a beautiful winery dining and taproom, which serves up the farm's wines.
Stores and Art in Madison, Indiana
Who doesn't love a little bit of shopping? In Madison, there's no shortage of boutiques to peruse, art and music to soak in, and antiques to check out or even take home. The main strip of Madison's historic, 133-block downtown area is where you'll really get your money's worth. Want to take something vintage home for your farmhouse-style kitchen or garden? Old Tyme Marketplace is the spot. Or maybe you want something to keep the kids happy? The family-owned McWhiggins Wonder Emporium has all the toys, games, and gifts you may need.
If you want to look past the natural art of Madison's historic downtown area and its architecture, there are galleries and exhibits to take in as well. Carlson Art Studio, run by lifetime Madison resident Kevin Carlson, is a great place to check out some local work or put in an order for a custom portrait or sign. You might also want to line your visit up with the Madison Chautauqua Festival of Art, which always takes place the last weekend of September and features Indiana's premier arts and crafts.
Madison has also been branded as "Indiana's Music City" thanks to the live performances constantly taking place at venues all across town. The Madison Music Movement keeps track of who's playing where and when, so you can line up your dinner reservations with your favorite genre or performer.
Amazing Year-Round Festivals in Madison, Indiana
We just touched on the Madison Chautauqua Festival of Art, as it is one of Madison's most popular, but there are really events going on year-round.
On April 30, you can catch both the Spring Celebration Festival and the Mad Hop Music Festival. The former provides workshops, tours, and plant giveaways at the French Country Gardens, while the latter is a bit of a venue hop featuring live music at seven different places around town.
The Spring Choir Festival will kick off on May 1 as well. The Madison Performing Arts Foundation is bringing church choirs from all over the area to perform a concert together. The fun doesn't stop as summer rages on, as the Madison Regatta Gold Cup & Roostertail Music Festival and the Roostertail Music Festival will kick off July 1
Different events like group hikes, barbecues, tours, concerts, and more are going on all year in Madison, making it one of the most lively and engaging towns to visit in Indiana. You can plan your visit around the event of your choice by checking out the town's calendar list of activities.
Did you have any idea there were so many amazing things to do in this Midwest town? Consider visiting Madison, Indiana! With so much to do, eat, see, and enjoy – it is a perfect surprise in the Midwest!